WELCOME INFO - SEPTEMBER 2020
Hello and a very warm welcome to the children and families joining Year 2 in September 2020. Parents, please watch the video underneath. If you have any further questions, please email me at: amber@puritonprimaryschool.org.uk
VIDEO FOR PARENTS
Here is an information video for the children. If they have any further questions, don't hesitate to contact me.
Hello everyone! We are really looking forward to seeing you on Monday. Children may arrive at 8.50am and be collected at 3.15pm. Check out this video to see what the classroom looks like!
UPDATED WELCOME TO AMBER CLASS VIDEO - SEPTEMBER 2020
Useful Links for parents
For phonics practise, click here.
For a range of online learning games, check out TOPMARKS.
Hit the Button is a great game for practising maths facts.
These are great if children are feeling a little anxious or need to practise some calming activities...
For livelier yoga, try Cosmic Kids on YouTube!
HANDWRITING
When we use our brilliant ideas to write, it is important that people can read them. Here are some photos to remind you about letter formation to ensure your work is neat and clear.
ENGLISH
Click the link to find out the spelling and grammar being used in Year 2
Amber Class Learning
Click here to see an overview for our learning this term: Brilliant Brunel!
Here are key words that the children will be using with the topic and some suggestions of books to support learning at home. Brilliant Brunel Vocabulary.
Click here for the 3 week homework project about Queen Victoria. HOMEWORK
Week Seven - 23/10/20
We have been practising spelling words ending in -el and revising all the phase 5 phonemes. We have been practising segmenting nonsense and real words and the blending them back together. We also wrote our own versions of, 'The Black Hat.' Mrs Brown was impressed with the vocabulary we used in our stories.
In Maths, we have been learning how to add 3 one digit numbers efficiently by spotting facts we know then adding the remaining number. For example,
2 + 6 + 8
Do: 2 + 8 = 10
Then: 10 + 6 = 16
We then used these skills in a domino investigation and an investigation about Brunel. We had to trial different solutions and be very resilient.
In Science, we thought about personal hygiene. We also reviewed our potato experiment. We were amazed that the potato rubbed in the sink had the least bacteria growing. The soap must have killed the germs. We also considered if there was a place in the World where no germs existed. Here are some of our ideas:
"Antartica because it is cold." (Darcey)
"In the air because the air is weak and germs would fall through it." (Riley)
"Inside a spray bottle filled with cleaning liquid." (Cassie)
"In a desert because there aren't many people there." (James)
We also learnt the Jewish Creation story in RE.
We finished the week of with a Halloween yoga session and a fantastic gem party! What a busy but brilliant half term. Have a wonderful week off. Stay rested and safe and we will see you on Tuesday 3rd November.
Week Six - 16/10/20
We have been practising spelling words ending in -le and using the f, ff, ph and i_e, igh, i, y, ie graphemes. In English, we learnt all about expanded noun phrases. An expanded noun phrase adds detail to the noun using adjectives.
e.g. The shiny hat...
The shiny, black hat...
The shiny, black hat with a satin sash...
We listened to the story of, 'The Black Hat,' by Maia Walczak. You can listen to it at home here:
It is full of brilliant vocabulary. We used bingo boards to spot key words and discussed what they meant. We will be learning the story and writing our own version next week. We then thought about what it is like in a forest. We listened to forest sounds, to describe what you hear, we looked at photos to describe what you would see, then went for a walk in the school grounds to see what you can feel and smell. We used our ideas to write descriptive sentences.
In Maths, we have begun practising addition and subtraction. We learnt that they are in the inverse of each other. We used one fact to find others.
E.g. 12 + 4 = 16 so 4 + 12 = 16 and 16 - 4 = 12 so 16 - 12 = 4
(Part + part = whole whole - part = part)
In science, we learnt that exercise is one way of staying healthy. We designed our own exercises, timed how many we could do in one minute and then thought about how our bodies changed/felt after each one.
We continued our art project by using chalk pastels to create leaf patterns. We blended the colours together using our fingers.
A huge thank you to everyone who managed to make a parents evening appointment. We hope it was useful.
Week Five - 09/10/20
We have been busy writing our factsheets and we can't wait to share them with our parents to teach them all about Brunel. We all remembered lots of facts and produced lots of writing. We extended our sentences with conjunctions such as, 'and,' 'but,' 'because,' and 'so.' We have been practising oi and oy and the floss rule (doubling ss, zz, ll, ff after a short vowel) in phonics and j and g in spelling.
In Maths, we have compared numbers with greater, less than and equal symbols, we have ordered objects and numbers and place numbers on a variety of number lines. Building numbers helped us compare the size of them.
We learnt about the Victorian artist, William Morris. He used flowers, plants and animals in his artwork. His designs were then printed and used to create wallpaper. Victorians living in cities had little/no garden so it made them feel close to nature. We started to sketch leaves and then learnt how to use watercolour paints to add colour. We will soon design and create our own prints. Find out more about William Morris here:
Week Four - 02/10/20
In English, we have enjoyed researching facts about Isambard Kingdom Brunel. We also drew our own portraits of the famous engineer. We have learnt how to use question marks and commas in lists, ready to use in our factsheets. We practised words spelt with -dge and -ge, as well as recapped the ou, ow, ng and nk phonemes.
In Maths we have been representing numbers in different ways. We also partitioned 2 digit numbers using part, part, whole diagrams and place value charts. We also used greater, less than and equal symbols to compare numbers.
We have continued to develop our word processing skills using the laptops. We also learnt about the Jewish festivals of Rosh Hashana (Jewish New Year) and Yom Kippur (Day of Atonement.) We tried honey and apple and made cards.
We used potatoes in a science experiment. We kept one untouched, we rubbed one on Albert's hand, one in the sink and one in a muddy puddle. We have put them in bags and we will look at them carefully over the next two weeks to see what happens. We are trying to discover where most germs can be found.
Week Three - 25/09/20
We had great fun launching our new topic this week. We went on a school trip to a museum! Ava drove the coach around the path and we travelled to the hall. When we arrived, we saw lots of artefacts on the floor. We spent lots of time moving around and looking carefully at them. We soon realised the information labels were missing! We decided to guess what the objects were and write our own labels. We thought one wooden object could have been used as a weapon, a pizza slice or a fan. It turned out to be a carpet beater!
Mrs Brown explained what the objects were really for. We quickly noticed that none of the objects used electricity. We decided they must be from a long time ago, perhaps when electricity wasn't invented or used in homes. We then made a human timeline of key events in History. E.g. Roman invasions, World War 1, dinosaurs roaming the Earth etc. We finally worked out that we will be learning about the Victorians!
We then thought about questions we would like to answer. We also learnt a little bit about a famous engineer named Isambard Kingdom Brunel. We drew his portrait. We can't wait to find out more about him so that we can create factsheets to share with our parents.
You can watch a video about Brunel here: BBC BRUNEL VIDEO
We also practised ball skills, Pokemon Yoga (click here for the link), thought about how we are always connected to those we love by an 'invisible string,' represented numbers to 100 in different ways, looked at features of factsheets and practised being sentence doctors by correcting spelling and punctuation.
Week Two - 18/09/20
It is the end of the second week. We have been hit by tiredness and colds but we have carried on with our learning.
We chose a feeling and filled a jar to represent it- just like the Colour Monster. We took them home to continue to help us manage our feelings. Then we wrote poems to describe feelings. Here is Sammy's...
This is calm, It is bright green like grass, It makes me get a book and sit down and read!
This is happiness, It makes me want to outside and play, It shines like Honeydew melon, It makes me want to ride my bike.
This is sadness, Sadness is deep like the ocean.
Well done Sammy!
In Maths, we have continued to practise doubles and halves, number bonds and accurate counting.
We really enjoyed practising running in PE and impressed our Coach, Miss Gardener with our enthusiasm.
To start our Health and Hygiene topic, we thought about the spread of germs in Science. We used glitter to represent the germs and were surprised to see how easily and far they spread! We also realised we had to wash our hands extremely well to get rid of every 'germ.'
Week One - 11/09/20
It has been so lovely seeing all our families and friends arriving at school this week. The children have been amazing and settled in brilliantly!
We read, 'The Colour Monster,' by Anna Llenas. The monster unpicks his feelings throughout the pop-up book. This helped us discuss how we felt. Most of us agreed we felt nervous or worried (black) before school but by lunchtime we felt happy and excited! (Yellow) We each have a monster feelings fan which we use to show how we feel each day.
We have focussed on the 'long a' sound in our phonics revision and we have learnt that we can spell some words starting with, 'n' by using, 'gn' and 'kn.'
In Maths, we have recapped some of our learning from Year One. We practised counting backwards and forwards using numbers to 50, finding more and less, doubling and halving and writing number facts using a variety of resources and games.
Outdoor Maths!
We continued thinking about colour by learning about the action artist, Jackson Pollock. We created our own colourful, abstract art by flicking and dripping paint with paintbrushes and by dipping string in paint.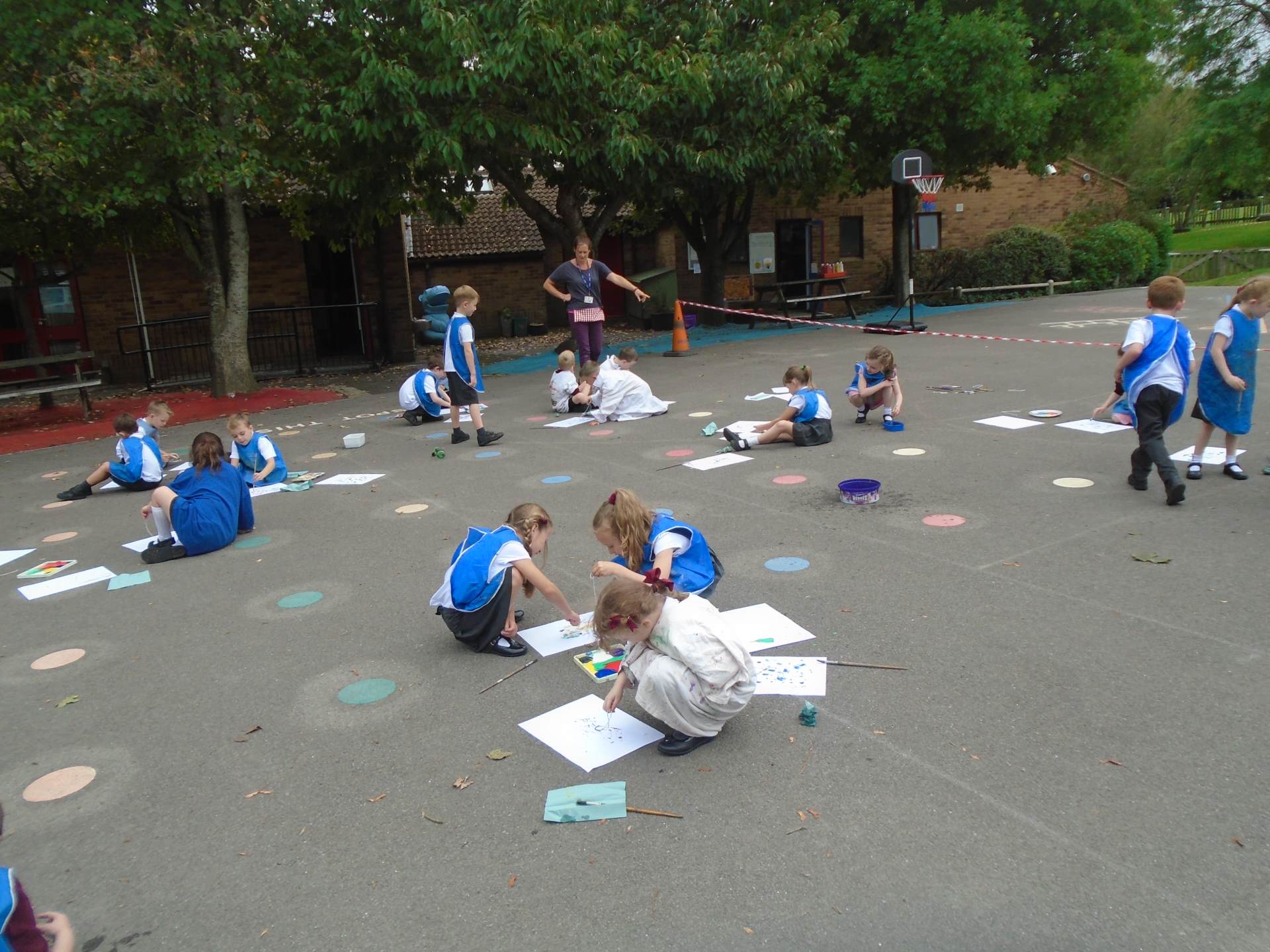 We also learnt to be calm, strong and still by learning and inventing some yoga poses!
Home Learning Photo Gallery
Look at all the amazing fun we have been having whilst learning at home!